Aromatherapy Massage at About Balance Brighton
"Aromatherapy is an art which induces relaxation and increases energy, reduces the effects of stress and restores lost balance to mind, body, and soul."
Aromatherapy is a natural treatment that uses the power of essential oils to heal the body and the mind. Essential oils are extracts of plants, herbs and flowers'
This treatment is used to balance, harmonize and promote the health of body, mind and spirit, and it has been proven effective in pain relief, mood enhancement and increased cognitive function. It seeks to unify physiological, psychological and spiritual processes to enhance an individual's innate healing process.
Our sense of smell can have the most profound effect on our emotional well-being. Inhaling the aromas from essential oils, the olfactory nerve in the brain is stimulated, which induces a cognitive effect, relaxing and stimulating the mind and body depending on the concoction of oils.
What are the benefits of an Aromatherapy treatment?
– Relieves stress, depression and anxiety
– Insomnia
– Emotional conditions
– Migraines and headaches
– Improves muscle tone
– Muscle aches and pains
– Low immune system
– Digestive disorders and improves general digestion
– Improves flexibility
– Regulates hormones
– Relieves PMS
– Reduces inflammation
– Calms the nervous and respiratory system helping asthma
– Improves sleep patterns
– Improves poor circulation
– Boosts energy levels
– Boosts cognition
– IBS
– Improves skin tone and complexion
– Helps with most common ailments.
---
Therapists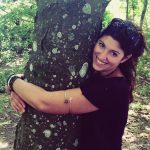 Marta De Ferrari
For 1 hour: £50/£35 with a Karma Card
For 90 min: £65/ £50
---
Joanna Zwolak
£65 per 90 min or £50 with a karma card
Contact: 07450264535 , bubbletherapiesbrighton@gmail.com