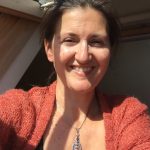 Donna Raftery
Classes:
Lunchtime Yoga – Mondays 13.10- 13.55
Beginners Yoga 9.30-10.30am on Tuesdays
Modern postural yoga rooted in ancient tradition backed by scripture and embodied philosophy.
vajrasati | hatha | iyengar |
Donna discovered her own practice through various styles of yoga including Ashtanga Vinyasa, Hatha, Iyengar and Hot Yoga, before finally finding the Vajrasati School set up by Jim Tarran in 2000. The combination of yoga philosophy and embodied practices such as meditation, mantra and pranayama gave her access to the depth she was looking for. After being a student for 18 years she went on to complete her 500hr Yoga Alliance Teacher Training. Her aim is simply to share this practice as a means to realise the ultimate potential in all of us. To integrate mind, body and soul on and off the mat. To live fully, holistically and happily. Classes are crafted with a meditative feel, a deep dive into the movements of the body through āsana (poses) and the subsequent releasing of tension and stress through the breath. Instructions are guides towards an experience rather than a goal – authentic and heart centred. Weaving some anatomy and philosophy throughout – pointing towards the deeper aspects of our being. Leaving students feeling calmer, more connected and peaceful. 
Her mantra and wish for all her students:
Be yourself, realise your true essence, feel good.