Grace Scarvaglieri
Contact: 07766573491; feil1710@hotmail.com
;
@grace.mentoring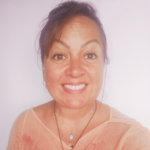 My name is Grace Scarvaglieri, and I've been a psychic medium since I was child. I use the Tarot cards to connect with my guides to aid my mentoring and, as a result, provide accurate and comforting advice to my clients.
Since 2002, I've been a passionate holistic therapist and Shamanic practitioner who enjoys empowering individuals to understand their vibrational bodies and discover the gentle power of the healing arts.
I am a natural spiritual medium with more than 20 years of experience, blessed with a magical mix of empathy, telepathy and clairvoyance.
Qualifications
2002 Qualified Holistic Therapist – Holistic Centre Rapha-el Brazil
2003 Reiki Master – Marcia Chaves holistic school Brazil
2017 Coaching and Mentoring Diploma Course – Institute of Counselling UK