About Balance is having a 'Summer camp' this year at the 'Sea Lanes' pop-up at Madeira Drive!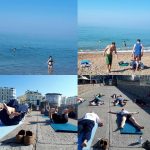 After years of running our famous 'Yoga and sea swims' on the beach we are collaborating with 'Sea Lanes Pop Up' for much more!
It's like a yoga studio but on the beach. it's like being on holiday, but in our own little Brighton.
what to expect?
Early morning yoga - 7:30-8:30 All Weekdays! Monday - Friday!

About Balance is having a 'summer camp' this year at the 'Sea Lanes' pop up!

we will have our early morning yoga  on the beach, followed by a sea swim twice a week (when weather permitting!)

Join every weekday for some yoga fun in the sun!

Sunset yoga 18:00 Monday and Thursdays

Join us every Monday and Thursday for some sunset yoga to finish your day with (and a sea swim!). what a joy to be alive! (Please sign up in advance as this class is weather depended!) 

Vinyasa Flow 17:20 (Wednesdays in August)

Let's make the most of the warm Summer evenings. A full sensory experience; the breeze, the sun, the outdoor noises, an incredible way to practice taking Yoga beyond the mat

A giant yoga breakfast and a swim! Saturday 10:00 (check calendar for details)

Weekend! Whoop whoop! Join us for a beauuutiiifuulll 60 min class, followed by a giant sea splash, followed by amazing breakfast provided by the yummy 'You Juice' (if you order it the day before). Your juices will fill up so you will and have the most amazing weekend ever!

Women's circles

Women have been gathering in circles since the beginning of time to share experiences, stories, thoughts, ideas and prayers.

This Women's Circle offers a safe and gentle space for women of all ages and backgrounds to come together and share.
There will be a fire pit, chocolate, yummy offerings, sharing, connection, massage, movement, meditation and intention setting under the Full Moon.

ALL WOMEN WELCOME! Bring you're daughters, sisters, mothers, grandmothers or friends!

WE WELCOME YOU!  This is a free event (donations welcome) Places are limited to 50, so please sign up in advance

Kids yoga

Partners yoga

Coastal foraging walk

Join forager, plant guide and wild food cook Mike Cutting on a summer stroll along the Brighton coastline and discover some of the edible and medicinal plants that grow here.

108 sun solutation

SUP yoga

Yoga and Harp

In the height of summer, come and celebrate the warmth and playfulness of this beautiful season by joining us on another, ever popular, Harp Yoga workshop with Tracy and Effie
We will also have your favourite therapists offering some chair massage and reflexology throughout the summer.
BRING IT ON!
Read more about the Sea Lanes Project Here!