Bach Flower Therapy at About Balance Brighton
Bach Flower Therapy has a lot to offer when it comes to our mental health and our emotional wellbeing. It works with Dr Edward Bach's 38 flower essences which are similar to herbal essences, however they are specifically prescribed for unpleasant feelings and emotional states. The underlying philosophy of Bach Flower Therapy is that by treating the emotional body, we are also taking care of the physical body, and increasing our overall health.
Dr Bach (1886-1936) designed his system of healing in a way that it is easy to use for everyone. It is therefore entirely possible to prescribe the remedies for yourself. However, when we first start to familiarise ourselves with flower essences, it can be a bit confusing to see how the remedies work, how to select them, how to create our mixtures, how often to take them, and how to deal with the emotions they bring up in us. 
The role of the Bach Flower Therapist is to aid you in all of the above. We can greatly benefit from even one treatment. Follow-up sessions allow us to work on deeper and deeper layers, and can be booked 4-6 weeks apart. After working with the remedies for a few months, you might wish to get your own home kit and prescribe them for yourself. If you are already familiar with and have been using remedies to heal yourself, having a session with a Bach Flower Therapist can help you to work with this wonderful system of healing in a more dynamic way.
Anna (Bach Flower therapist) says:
I personally find that Bach Flower Therapy works best for those who are currently receiving or are planning to receive counselling or psychotherapy. Having said that, anyone having an active interest in working on their emotional health and creating changes in their life and habits can benefit from Bach Flower Consultations. 
The remedies do not cure or suppress our mental/emotional symptoms, rather function as guides in helping us to work through our discomfort. They are gentle and have no known side effects. By using them on a regular basis alongside other holistic and self-care practises, they can really help us in healing ourselves. 
Therapists Available
---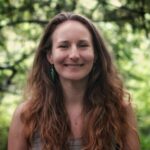 Anna Bihari
£50 for 60 min or £35 with
Karma card