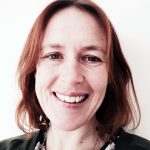 Charlotte Amery
£50 per hour or £35 with a karma card
£70 for 90 minutes or £50 with karma Card
---
Charlotte in a Natural Health Practitioner who works within the structure of the Health Kinesiology framework incorporating other therapies and tools when they come up as needed. This includes nutrition, body work, supplements, exercises, meditation & visualisations, changing habits, flower remedies and more.
Charlotte comes from a professional background where she worked for entrepreneurs in technology and sustainability. Her exploration into energy based therapies accelerated when her son was born with a disability requiring immediate and ongoing medical treatment.
She completed her training in DORN in 2012 and in Health Kinesiology in 2017. She is an Associate member of the Kinesiology Federation and registered with the Federation of Holistic Therapies.
"I work as a translator for the body. I use muscle testing to ask the body "What do you need?" and then I offer a menu of options." It is holistic, targeted and gentle – the body only chooses what it can handle, in the order it needs and as much as it needs. It is suitable for all ages and stages of life.
Each case is bespoke and unique – and in a world where there are so many ideas about how to live healthy and be well, it can be very helpful to narrow down the options to what is really needed and beneficial for you, in what quantity and how long it is needed for in order to feel healthy and achieve your goals.
"My daughter loved her treatments with Charlotte. She now has more energy, her skin has cleared and her immune system is strong enough to fight off a common cold whereas before she would end up really ill." Lisa
"We had already tried a few different things for my son's stomach aches. We came to see Charlotte and within a week they started disappearing and by the last session he felt so much better. My son liked going to the sessions as Charlotte made him feel relaxed and at ease. I couldn't recommend her highly enough."
"My blood sugar levels came down to an acceptable level. I just about skipped home when I found out." – Jackie
'I have been amazed by the depth and clarity of health kinesiology, and the way it is helping my son and I physically, mentally and emotionally. The sessions are simple yet profound; a journey of discovery. Charlotte holds the space beautifully, with warmth and sensitivity.' – Isla
"It is refreshing to bypass the thinking mind to find solutions to complex problems." Avril
Note: These are personal experiences – everyone responds differently to Health Kinesiology.