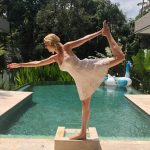 Crystal Skinner
Classes:
Contact: 07865407679, Crystal.f.skinner@gmail.com, Facebook
Crystal's journey with yoga started over 15 years ago, where ashtanga yoga was used as a strengthening exercise for her dance training, at the time. Unfortunately, an injury one year later, left her living with chronic hip inflammation, where she became convinced that she wouldn't be able to move freely again. It was only on a trip to Bali, over 10 years later, that Crystal discovered "yin yoga". In just one hour she was so impressed by the pain relief benefits, that she was driven into understanding the true meaning of yoga. From here she went on to study yin yoga and myofascia release with Jo Phee – the primary assistant to yin yoga founder Paul Grilley. She then completed her 200 hour RYT hatha/vinyasa with peace activist Silvia Mordini alongside an additional swing yoga course with Peewee Sanchez, both in Indonesia
Crystal cannot wait to share her knowledge with others. Her aim is to help every individual understand the importance of the yin yang balance, alongside breath work that is open and free.Overall her classes aim to recentre and revitalise, bringing people mentally and physically back to the present.