Cuddle Therapy at About Balance Brighton
Cuddle therapy offers the benefits of close physical connection in a safe, supportive environment. Men and women of all ages may want more touch in their lives for a variety of reasons, such as being single or having a partner who does not enjoy cuddling. They may have issues with intimacy or boundaries they wish to address. They may want a talking therapy session where they can hold hands or hug while they talk. Or they may want to experience the health benefits that touch provides.
The benefits are many, including reducing pain, boosting the immune system and lowering the risk of heart disease. It reduces stress and anxiety, and it can boost your mood and help curb depression. It can help you sleep better due to feeling less anxious. Overall it can create a sense of happiness and wellbeing.
I practice person-centred counselling which means the client directs how the session goes, both with whether the client wishes to talk and with the physical contact we have. We might have minimal or no contact and build up to more, or we can cuddle for the whole hour – or anything in between.
Check out this video to find out more…
---
Therapists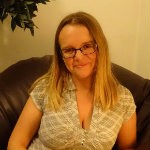 Lindsay Meadows
£45 per hour or £30 with a karma card