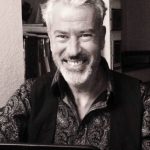 David Litchfield
Psychotherapy: £45 per hour or £35 with a karma card
Classes: £8 and £5 with a karma card
Courses: £102 or £82 with a karma card
---
I initially trained for three years as a counsellor, both in the person centred and psychodynamic traditions and then for a further three years as a mindfulness based psychotherapist at the Karuna Institute in Dartmoor. I also studied with the Vietnamese Zen master Thich Nhat Hahn at Plum Village in Southern France. I have a Master in Mindfulness Based Psychotherapy and am an accredited member of the UK Council of Psychotherapists (UKCP).
I came to psychotherapy after taking my own journey through many years of pain and suffering and realising that we all have the capacity to be well; however, sometimes we just lose touch with this capacity. As a therapist I seek to create a space for you that feels both welcoming and safe; to offer the opportunity for you to be deeply listened to, and to say or explore whatever it is that needs to be brought into this space.
Whatever you share with me remains confidential. I abide both by the Karuna Institute's Code of Ethics and the UKCP's Ethical Principles and Code of Professional Conduct. As it is with any new relationship, it is important to find a person to work with who feels right for you. This is why I suggest an initial 30-minute consultation for which there is no charge. This gives us an opportunity to meet and get a sense of each other, for you to find out how I work and for me to find out what brings you to psychotherapy.
David runs weekly Meditation & Mindfulness classes as well as 8-week introductory courses. Check our timetable and workshop schedule to check the dates and times of these.