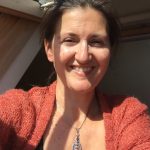 Donna Raftery
Classes:
200 Hour > enroute to 500 Hour certificate
Modern postural yoga rooted in ancient tradition backed by scripture and embodied philosophy.
vajrasati | hatha | iyengar |
My love of wisdom and passion for Yoga started at a young age and continues to grow through regular āsana practice, meditation and personal study. I am interested in deepening the connection to essence nature through regular practice (abhyāsa).
My approach to teaching is an extension of my own practice and reflects my interest in total surrender (to the present moment), breath awareness, tuning in to the physical conditions with acceptance and love.
I am passionate about integrating the power of mantra, the purity of sanskrit language/sounding and learning more of the rich heritage and tradition of Yoga from scripture, sutra and beyond.
Expect a class that lifts you up refreshes and revives. I welcome beginners and returners – especially those looking to deepen their practice.
Stretch and Strengthen. Open and Release. Breathe and Relax…
Time to unwind. Time for You.