Family Yoga Classes in Brighton
Mindful movement for all the family to enjoy together.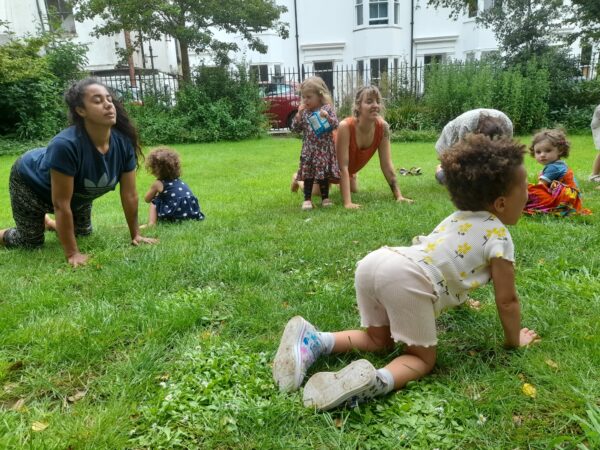 Pregnancy Yoga – Sundays 4.00pm – 5.30pm
These classes are a fantastic way to support your body and your growing baby throughout pregnancy and to prepare your body for birth and beyond. Each week we will move through a 60 minute yoga practice to ease common pregnancy related aches and pains, to strengthen your body for birth and life with your new baby, and to give you plenty of movement and breath work tools to use during all birth scenarios. After the practice (and a short toilet break!) we will welcome a different pregnancy, birth, or new parent practitioner each week to share some additional tools, knowledge, and support for you during this important time. We want to create a sense of community as you move through this time together, fostering a welcoming and supportive atmosphere and hopefully making new friends. This course welcomes pregnant people of all genders from 12 weeks of pregnancy and with all hopes and preferences for their birth.
Teacher: Gabi Markham
Bumps and Babies – Tuesdays 10.30am – 11.30 am
This is the perfect class for anyone who is pregnant, postnatal, or a new parent! Babies and young children are very welcome to join as we move through a gentle (but warming) yoga sequence that is safe for the perinatal period. All genders are welcome, but if you are pregnant, you must be in your 2nd or 3rd trimester or at least 10 weeks postnatal if you have given birth. All parents and carers are very welcome, and you can stick around for a chat and a little social after the class if you want.
Teacher: Gabi Markham
These 45 minute kids & teen yoga classes in Brighton offer a playful space for children to calm the body, mind, and regulate their emotions. During these sessions children experience a variety of yoga poses, gentle breathing techniques, and relaxation exercises.
Teachers: Gabi Markham, Emma Rawles
Outdoor Toddler Friendly Movement – Wednesdays 11.00am – 12.00pm
Toddler friendly movement class set outdoors at Pelham Square. Tamar and Ella both have 2 year olds 🙂 Tamar is a dancer and movement instructor and Ella is a yoga teacher. Join them with a toddler for an outdoor movement session. Pelham Square (bottom of Trafalgar street).
Teacher: Tamar Daly