Gong & Yoga at About Balance Brighton
"Having had some 1 to 1 yoga sessions with Maria I can say that she is an amazing teacher having really held the space and tailor made the class to suit my needs . I enjoy so much embracing the abundance of life and welcoming my breath, feeling passion for life and then to deeply relax bathing in a gong bath .Thank you Maria"/Gillian
It is the moment to receive life as a gift. With the tools of the sound healing, and the kundalini yoga, we can together see where you are in life, and how these tools can support your journey through life.
Each 1-1 will be tailored to your needs and situation. You are welcome in any age and physical ability. In the beginning we check in where you are in life, and your intention for the session. We will do some pranayama (breathing), movements, we might explore sounds, you will be guided into presence, stillness, and on your back or sitting receive the vibrations & sounds of the gong and the other healing instruments. If you want to have a larger focus on the yoga part, we can for example merge the gong playing into a Kundalini Yoga set which will include chanting/singing, meditation/kriya/yoga set and a gong relaxation/meditation. We do a check-in in the end, where you get the possibility to share & write down your experiences. I also offer guidance how you can include this tools in your daily life, and notice what it is time to let go of, and what to invite into your life.
I so look forward to meet you in presence. Any questions or inquiries, please connect with me.
---
Teachers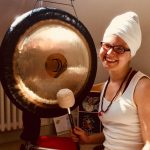 Maria Varanpal
Gong & Yoga: £60 for 60 mins or £45 with a karma card /For 90 min: £75/£60
Personalized Yoga (without gong): £45 for 60 mins or £30 with a karma card /For 90 min: £60/£45