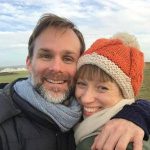 Jim & Khadine
Fridays 12:15-1:30pm
---
About Jim
Jim has been practising yoga since 1990 and teaching since 1992. He runs and devised the Yoga Alliance registered, 500-hour teacher training course Vajrasati Yoga, which has been going since 2000. As a teacher trainer he is qualified to teach students ranging from total beginners to advanced and everyone in between. He is a partner in Yoga Explorers and has taught over 60 yoga retreats and holidays worldwide.
About Khadine
Khadine has been practising yoga since 1997 and teaching since 2004. She is a Senior Teacher in the Vajrasati Yoga School and assists on the teacher training course. Her classes are deep, kind and fun and her passion for the whole field of yoga, along with her warm nature, make classes with her uplifting and inspiring. Her studies in yoga have been with a wide range of international teachers and she finds inspiration in fusing yogic philosophy and embodied practice together.
The Classes
Jim and Khadine will take turns to teach these classes and assist each other where required. They often study and practice yoga together and run the Vajrasati teacher training course together in Brighton and London. Their teaching styles are compatible and students will benefit from the variety of presentation they will get from classes taught by a male and female teacher. The classes will focus on asana but will also include: dhyana (meditation), pranayama (breathing practices), mudra (hand gestures and other energy containers) and mantra (chanting), with a view to waking up to the undivided holism of our essence.