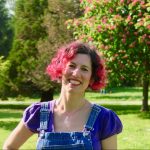 Lauren Stoney
Treatments:
Therapeutic Coaching
£45 for 60 minutes or £30 with Karma card
£60 for 90 minutes or £45 with Karma Card
Lightning Process Training
Group: £650/ Individual £1,300
10 percent discount with Karma Card
Contact:
07554841880, lauren@laurenstoney.co.uk, laurenstoney.co.uk
---
Lauren is a Therapeutic Coach and Lightning Process Practitioner specialising in confidence, motivation, stress and burnout.
Having entered the world of marketing as a driven professional, I experienced first-hand the effects of living life at 100mph. Living every day from a 'work-hard, play-hard' mentality, it wasn't long before I suffered the effects of burnout, and was facing the diagnosis of a 'lifelong' autoimmune condition.
My future seemed bleak with rapidly deteriorating health, the potential loss of my career and a social life that was drawing to a close. Above all else, I felt I had become a shadow of myself and lost my sense of 'me'. THEN. In 2016, I discovered the Lightning Process®. I took the training and never looked back. I rediscovered my health; I rediscovered 'me,' and I got my 'oomph' back.
Since then, I have trained in NLP, hypnotherapy and the Lightning Process to help others make that same journey. I work with a wide range of issues, but specialize in:
confidence and motivation with a particular issue or area of performance;
avoidance of a stress-fuelled crash
bouncing back from the aftermath of burnout
chronic health issues
Whatever the issue, I'm here to help you move forwards with your life and, not only reconnect with your health, but reconnect with that 'inner oomph'; the part of you that makes you who you really are.
Lauren's qualifications & memberships
Psychology (BSc Hons)
Master practitioner in NLP, Coaching & Clinical Hypnotherapy
Clinical Diploma in NLP & Coaching (Dip Clin NLP Coach)
Advanced Certificate in NLP, Coaching & Hypnotherapy (Adv NLP Coach Clin Hyp)
Lightning Process Practitioner Certified
Certified Member of the Complementary and Natural Healthcare Council
Certified Member of the ANLP Association

Testimonials – Therapeutic Coaching
"Lauren uses a sensitive and pragmatic approach when dealing with painful subjects which I found really refreshing and surprisingly effective. After just two sessions with Lauren I felt like I'd turned a corner which felt amazing … I would definitely recommend Lauren." Anon, East Sussex
"I've had coaching from Lauren several times over the last year or so and she's helped me make some profound shifts in different areas of my life.
In my business she helped me overcome my long-held fear of marketing, and a belief that I was rubbish at that side of my business. As a direct result of this I am now confidently doing lots of brave marketing on a regular consistent basis, which means my income stream is now a lot more predictable, as I am generating the leads I need all the time.
She's also helped me overcome deep-rooted anxiety around different issues in my business and health, and this has enabled me to go out into the work and be who I am meant to be.
Lauren without doubt is a highly skilled coach with an innate talent for what she does. She was born to do this work and has a tremendously deep passion to help people live their fullest lives. We all have beliefs that don't help us, and patterns of learned behaviour that hold us back – work with Lauren and you'll never look back!"
– SH, Nottinghamshire

Testimonials – Lightning Process
"Before my teenager son started the Lightning Process with Lauren I was skeptical. The online testimonials looked too good to be true. However, faced with a child whose life was being affected and limited by ME, we decided to go ahead with it…We're now just over a month post LP course and it feels I have my old son back. The nausea has gone, the overwhelming weariness has vanished, the aches and pains are a thing of the past.
The ongoing support that Lauren offers after the course is a great way to keep on track and also very reassuring" – Claire H
"I attended the Lightning process seminar with Lauren a couple of months ago, I was a little sceptical to be completely honest but having been down most other avenues I thought it was worth a go.
What can I say… it was totally life changing for me…I now have a new way of thinking and living, I'm able to eat a thousand more things and keep my pain under control, my future looks positive for the first time in years….Thank you Lauren from the very bottom of my heart x" – Jooles, Surrey
Full testimonials available at laurenstoney.co.uk