Light Therapy at About Balance Brighton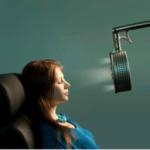 The Lucia No.03 hypnagogic light machine provides a deep nervous system relaxation while simultaneously providing a unique transcendental journeying experience. For the first time even novice meditators experience a state of deep relaxation coupled with focus, where one is in touch with their own intuition and sense of wholeness.
White light passes through closed eyelids, past the retina to the pineal gland, and creates a visual experience of one's own design. The inner consciousness of the traveler produces scenes of indescribable beauty. Music enhances the experience as the mind combines the two stimuli, generating synaesthesia – the experience of seeing music.
The reported benefits include:
Reduced anxiety and stress
Reduced fear and depression
Sense of wholeness/oneness
Increased sense of inner peace and emotional stability
Increased creativity
Increased intuition
Improved physical healing
More restful sleep
We have been listed in the US's Transtech 200 key innovators, who are developing science and technology that significantly impacts mental and emotional wellbeing:
Read more about the healing potential of changing states of consciousness and the Lucia No.03 here.
The Developers
Dr. Dirk Proeckl is a neurologist and psychologist with his own medical practice in Wörgl, Tyrol, Austria. He focuses on the interaction between the psyche and the nervous system and has studied psychosomatic rehabilitation of migraines, the distribution of neurotransmitters within the central nervous system, and the epileptic potentials in the electroencephalogram. He works with Lucia N°03 in his own practice, monitoring the nervous system before and after Lucia light sessions. He recommends that clients have at least 5 Lucia sessions to help reprogram their nervous system.
Dr. Engelbert Winkler is a clinical psychologist, psychotherapist, and legal consultant for children and youth with his own practice in Wörgl, Tirol, Austria. He studied philosophy, pediatrics and psychology in Innsbruck, and completed further studies in existential analysis, hypnotherapy and other disciplines. In 1994 he founded a family counselling institute named Kooperative Familienberatung and is particularly interested in the neuronal basis and effects of Near Death Experience as well as the development of new uses of the Hypnagogic Light Experience.
Brought to you by Mat Harvey of Mount Analogue UK
I had my first experience with the Lucia No.03 light machine in Sept 2012. Within 6 months I had met the inventors. In 2015 they offered me the position of UK agent and Mount Analogue UK was formed. In Jan 2016 I started to spread the word about the benefits of the hypnagogic experience induced by the Lucia No.03 light machine. Over the last 5 years I have worked hand in hand with the inventors, travelling across the UK and Europe with them, learning first hand how to introduce people to this wonderful experience. I am amazed that I am still so excited by this and am looking forward to the next five years of bringing a little light to where it is needed.
More info: http://www.mountanalogue.co.uk/
Each session lasts up to an hour and costs £40 or £30 with a karma card (book and pay online).
Please note: Lucia light therapy sessions are for over 18s over and should not be attended by pregnant women or anyone with photo sensitive epilepsy.
NEXT AVAILABLE: 5th of May. Book below. 🙂