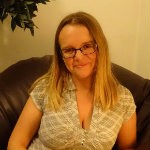 Lindsay Meadows
£45 per hour or £30 with a karma card
---
I grew up the US and moved to the UK when I was 19, and I've now been settled in Brighton for the past ten years. I love Brighton for how diverse and accepting it is.
I've always been a good listener and with encouragement from friends and family, I studied for four years and obtained a Foundation Degree in Science with a distinction in Person-Centred Counselling. Person-centred counselling is about trusting the client to know what path is best for them and providing the environment to enable them to find that path. The course was focused heavily on self development, which has helped me grow and develop both on the course and in the years since.
Brighton has a wealth of counsellors and I continually looked for something unique to offer my clients. Then I found it – cuddle therapy. I saw a documentary about a professional cuddler and knew it was my dream job. I embarked on a course shortly after and received my diploma, becoming an accredited cuddle therapist.
Touch is hugely important to me personally and I think it is vastly undervalued in our society. The benefits of touch are vast, including stress reduction and boosting the immune system. Though I think that without looking at the science behind it, a lot of people instinctively want a physical connection with other people – and opportunities to have that kind of touch can be limited or complicated. I'm excited to offer sessions where clients can have that contact in a safe, supportive environment, and to help spread acceptance of our need for touch.