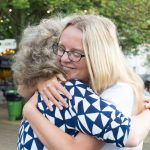 Lindsay Meadows
£50 per hour or £35 with a karma card
---
Cuddle therapy offers a safe, supportive environment where you can receive the many benefits of touch and/or talking therapy. Cuddle therapy can be useful if you find touch difficult and would like to work towards being more comfortable with physical contact at your own pace; if you would like talking therapy in a more relaxed environment; if you have stress, anxiety or depression; or if you simply love touch and don't have enough opportunities for an intimate cuddle.
About Lindsay
I'm from the US but have lived all my adult life in the UK. I'm now settled in Brighton, which I love for being so accepting. I'm a qualified counsellor with a distinction in Person-Centred Counselling and an accredited cuddle therapist; I've been interviewed about cuddling therapy and hugging on BBC One Breakfast, Good Morning Britain, BBC Radio Three and Four, and many local BBC radio stations. As a counsellor I know talking therapy alone can be very helpful- but I've found combining it with touch offers a deeper level of support and connection.
Every cuddle therapy session is different. I tailor each session to what the client needs, and there are no expectations of how a session should go. Some clients like to just lie down with me and talk, perhaps holding hands if they feel comfortable with that. Some want to dive straight in to an intimate cuddle, and some take a number of sessions to build up to having a hug. There can be long periods of comfortable silence, or, if we do talk, it can be anything from chit chit and laughing together, to discussing deep, challenging issues. Often clients cry on my shoulder, and I feel privileged to be able to give someone comfort when they are upset.
When I started offering cuddle therapy, I thought it sounded like a wonderful thing to do, and as I began researching the science behind touch I was surprised to discover just how many benefits there are. The more sessions I've had and the variety of clients I've met and connected with, the more I can see that cuddle therapy has so much to offer and can massively affect our lives, reducing anxiety and depression, building confidence and helping us be more assertive about meeting our needs. Aside from all that, it's also very relaxing, and you may well experience a glowing feeling of bliss after your session!