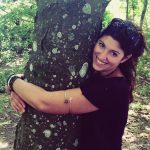 Marta De Ferrari
---
I am a qualified Aromatherapist, with a natural talent for healing. In Addition to this, I work extensively exploring the healing powers of essential oils, both through my client-based practice and through academic research. My aromatherapy massage practice has developed and i am able to offer a range of client-centred treatments, inspired by oils, crystal healing and my knowledge of the body's energetic centres. I hold a Diploma in Ayurveda and Panchakarma, which i obtained in Indian in 2018.
I work holistically, taking time to thoroughly discuss the client's needs, choosing the right collection of ingredients and techniques for the body to respond to, and creating a healing space for the client to feel truly able to relax and allow the benefits of the treatment to unfold.
My experience and knowledge, along with the commitment to my work, ensure my treatments are unique and very effective. I am a fully insured therapist and member of the Federation of Holistic Therapists.
Testimonials:
"Absolutely great experience. I arrived after a long day at work and a rather hectic few weeks. I felt immediately relaxed going in for my massage and came out feeling zen'd out. Highly recommend."
"Marta has a natural outstanding ability for healing and this is enhanced with her infusion of aromatherapy and plant remedies"
"Beautiful massage, so relaxing & the energy was amazing. Thank you"