Reflective Writing at About Balance Brighton
This is a facilitated 8 week reflective writing group. Through a series of short writing exercises we explore our experience, hopes and knowledge of and belief in ourselves. This space is both creative and contained.
The aim is to strengthen connections within ourselves and those around us, and to tap into our potential
The classes are open to any who are interested in using facilitated writing activities to explore their experiences and hopes. Any level of writing experience welcome. This small group will consist of 8 writers to ensure all have maximum support and time.
Maura has seen that reflective writing can awake our unique richness and strength. She invites you to join her therapeutic writing group as part of your journey. No writing experience is required for this small group setting which nurtures you as an individual.
As an experienced therapist, Maura offers a uniquely powerful space for reflection. With a creative and empathetic approach she works from a belief that a more choiceful future arises from deeper understanding. You may know what you want support with, or are struggling with a more undefined sense of dissatisfaction. This group provides a safe space alongside a supportive other to explore what concerns you.
To secure your place please email Maura to arrange payment.
---
Teachers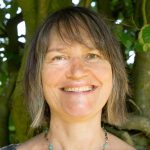 Maura Cowen (MBPsS) MBACP
September 30th – November 18th (8 weeks)
Please contact Maura for details.
Full price £72 or £56 with a karma card