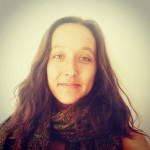 Sarah Pailthorpe
---
I started practising yoga in 2006 and completed the two year Vajrasati teacher training in May 2015. I have a 500 hour certificate and am registered with the Yoga Alliance UK.
I believe in yoga reaching the whole community and share the About Balance ethos of making yoga accessible for all. As well as my drop in classes I have taught and continue to teach people from different backgrounds and countries with different physical and mental health needs. I have been privileged to teach a large variety of people already and have loved every minute of it. I have learnt and continue to learn so much from everyone I teach.
My approach is playful and investigative, there are no set routines and each class is varied. I work with all aspects of yoga – postures, breathing, chanting and meditation – to build focus, create space in the body for energy to flow, and encourage absorption in your practice.
I bring a sense of joyful immersion to your yoga practice, guiding you into those parts of yourself that benefit from stretch, breath and release.
Testimonials
"I've been practising yoga for about seven years during which time I've had four teachers. For me personally, Sarah has been the most influential for my coming to better understand the depth of how beneficial yoga can be for my body and mind. She is confident and clear in her instruction, is sensitive to the needs of individuals within a class and creates a calm and kind atmosphere in which to practise. Thank you Sarah!" – Gabriele
"I came to Sarah's class as a complete beginner – one who was slightly nervous about my complete lack of flexibility! Sarah put me at ease immediately, and has been a great teacher – clear, helpful, encouraging, and very good at pushing each member of the class within his or her abilities. I finish each session feeling great, and after about eight classes, have already fallen in love with yoga." – Jennifer Robinson