Solution Focused Psychotherapy at About Balance
Solution focused psychotherapy focuses on the client's preferred future rather than problems of the past or present. It is goal oriented and practical and recognises that the client has resources and strengths that will contribute to the solution.
Vilija may use a combination of solution focused psychotherapy, hypnotherapy, EFT (emotional freedom technique) and acupuncture, depending on the client and the issue they'd like to work on. During a treatment the client is fully aware and in control at all times of everything that happens.
For more information about solution focused psychotherapy offered in combination with hypnotherapy, visit our Hypnotherapy page.
Therapists Available
---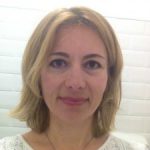 Vilija Pascal Lic.Ac.BSc (hons) Ac, Dip Hyp Psych
£60 for 50 minutes or £45 with
Karma card
£75 for 80 minutes or £60 with
Karma card
FREE 15 minutes phone consultation