Sports/Clinical Massage at About Balance Brighton
Sports and Clinical massage is a form of massage involving the manipulation of soft tissue to benefit a person engaged in regular physical activity and also for sedentary people whose muscles have become weak or people that have suffered trauma.
Soft tissue is connective tissue that has not hardened into bone and cartilage; it includes skin, muscles, tendons, ligaments and fascia, a form of connective tissue. Sports / clinical massage is designed to assist in correcting problems and imbalances in soft tissue that are caused from repetitive and strenuous physical activity, trauma and non-activity.
The application of sports clinical massage, prior to and after exercise, may enhance performance, aid recovery and prevent injury.

Sports and clinical massage is an extension of and includes Swedish massage along with intricate work on specific muscles which will encompass broad and specific massage, stretching and rehabilitation advice.
Clients feel a sense of release, sometimes mild temporary discomfort, blood flow, relaxation body during treatment.
Sports/Advanced Clinical Massage with Adi
Adi uses cutting edge massage techniques combining the best of Eastern and Western massage to tailor make the most effective treatment for your specific needs. Each treatment always makes use of deep tissue, trigger point work, myofascial release and acupressure points.
Massage can be restorative, nourishing and healing. Or treatment can be designed to treat a specific pain condition or recovery from an injury using clinical massage techniques which are very similar to sports massage.
"Adi is for me the body whisperer – heavenly interweaving of hands intuition and anatomical science. After many years of suffering from lower back pain I found Adi – her professionalism, skill and highly intuitiveness restored the innate healing power of my body. "
"Adi is a wonderful massage therapist..she found and concentrated on a recurring shoulder issue, which I'm happy to say is now healed! She has a genuine desire to find out the root of the issue, and the knowledge and techniques to do so, along with a lovely manner. I would recommend her highly."
---
Therapists

Adi Howarth
For 45 min: £45 or £30 with a Karma card
For 60 min: £50 or £35 with Karma Card
For 90 min: £65 or £50 with Karma Card
Hot Stones available for an additional £5
---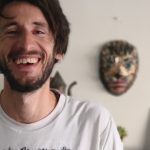 Tom Cowan
For 60 min: £45 or £30 with Karma card
For 90 min: £60 or £45 with Karma card
Contact: bigcatyoga@gmail.com, www.tomcowan.info