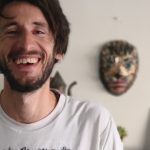 Tom Cowan
Self care, made easy. 
Yoga & self massage.
Wear comfy, stretchy clothes.
Please bring a broom handle.
Workshops:
Tom has been teaching yoga since 2015 after studying with Brighton's very own authentic yoga school Vajrasati.
He completed the Total Yoga Nidra Teacher and Facilitator Training with the prestigious Yoga Nidra Network in 2019.
His interest in embodied health and wellbeing started when he studied a BTEC Level 5 in Sports & Remedial Massage Therapy, which he has been offering since 2013.
He has a Certificate in Ecotherapy from the Tariki Buddhist Trust and is currently studying a Bachelor Hons in Person Centred Counseling at Metanoia, London. He works regularly as a facilitator for Loving Men on their self development residentials as well as running his own workshops and yoga retreats.
Tom's personal statement:
As Mary Oliver succinctly writes "I simply do not distinguish between work and play". I do the things I love and trust that some of you will love them to.
As I practice, explore, enquire and directly experience a truth that's emergent in these fields  I can then pass it on as a pointer to you, inviting deeper states of inner knowing, embodied presence, self transformation, kindness, empathy and wellbeing.
I cherish the opportunities we have to share transformative experiences of life through classes, workshops, one to ones and immersive retreats, that are just as likely to be outside in the wild woods as in a regular studio environment.
Together we can take a breath and pierce into the present moment with greater clarity, insight and love.