Loving Men Yoga For Gay & Bi Men at About Balance Brighton
Get your yoga on as we stretch out, breathe deep and come home to the heart with Vajrasati Yoga teacher Tom Cowan.
In this weekly drop in class for GBQ men we inhale, stretch and explore nourishing our bodies, minds and spirits together. Postures will be accessible, playful and adaptable for different bodies and abilities.
Whether you're new to yoga or have regularly attended other classes, this is the space for you to connect with yourself and other men.
This is a Yoga practice that is responsive to the needs of those present. Movements may be restorative, meditative and dynamic. Sound, breathing practices and partner postures may be used to take you more deeply into an integrated state of Yoga.
https://www.tomcowan.info/yoga-for-men
---
Teacher: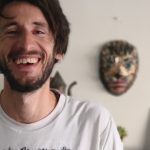 Wednesdays 7:30-8:45pm