Loving Men Yoga With Tom Cowan
Wednesdays-19:30 – 20:45 @ About Balance, Brighton. 
These classes will be run as a 'bubble' so the same people will arrive each week for our 6 week term. This will hopefully foster a greater sense of safety amongst our group
Vajrasati Yoga engages your body in dialogue in a fun, accessible and therapeutic way
A Yoga Nidra relaxation to finish aids down regulation of the nervous system helping us to truly rest
All allies to gay, bi and queer men are warmly welcomed to join us on Zoom.
Practical Information
There is an option for anyone to book an online place.  If you do not identify as a gay, bi queer man and feel solidarity as an ally to our group then you are also very welcome to join online via Zoom.  
Please go tohttps://www.aboutbalancebrighton.com/yoga-for-men/  You will receive a Zoom link upon registration and payment. Please pay what you can. 
These in person classes will be limited to 6 students in line with current UK guidance on social distancing.
Please stay at home if you have any symptoms and avoid coming to the studio.  
Join online instead! If online please have handy both a broom handle and rolling pin 🙂
All surfaces will be sanitised between classes.  
You are welcome to bring your own Yoga mat.
Please wear a face covering upon arrival at the reception, which is removed for the class.
We welcome gay and bi men, trans men and gender non-binary people attracted to men, from all walks of life who want to develop their capacity to connect with other men. We particularly encourage participation from black and ethnic minority men, HIV positive and negative men, young and older men and disabled men (who are able to sit, kneel and stand). 
Teacher: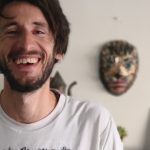 Wednesdays 7:30-8:45pm