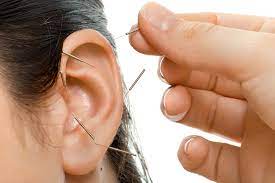 Low cost, community, Ear Acupuncture
Mondays 11.30am – 12.30pm in June
Drop in or book in advance
Cost: Sliding scale, suggested £10-£15
Contact: 
Jirshari Grossl 07477 097220
Natasha Naylor 07791482219
 Ear Acupuncture
We are proud to offer a weekly high quality, low-cost ear acupuncture service throughout June 2022 for everyone in our community who might be affected by stress, anxiety and depression, mental health issues, drug and alcohol dependency.
Many people successfully use ear acupuncture to stop or reduce their use of drugs, alcohol or tobacco and to manage the cravings associated with their withdrawal. People find they benefit from regular attendance; reporting feeling less stressed and anxious as well as noting improvements in their energy and mood, better sleeping patterns and a more positive sense of well-being.
Benefits from Ear Acupuncture:
Increase calmness,
Promote better sleep
Reduce agitation and stress
Helps with detoxification processes
Reduce mood swings
Drop-in sessions every Monday morning 11.30am at About Balance in Brighton. You will be in a 
room
 where other people are also being treated, so please arrive on time.
You are welcome to book ahead to secure your space (give us a call directly or book through About Balance on their Mindbody App) Or you can drop – in on the day.
To book please click the button above.
Due to the nature of the sessions for multiple clients at a time in our studio, you'll be taken to our class timetable, where you can find the ear acupuncture at 11.30am Monday mornings and book as if it is a class.