Homeopathy with Anna at About Balance Brighton
Anna is a fourth year student of homeopathy, offering low-cost sessions at About Balance as part of her training. If you wish to receive homeopathic treatment from her, Anna can take you on as a case study. As a case study client, you will be asked to commit to three session minimum: one initial consultation and two follow ups.
All sessions are supervised, which means that you will receive quality care. However, it also means that you might need to wait for your remedies a few days longer than it would normally be the case.
To find out more, please visit Anna´s website.
What is homeopathy?
Homeopathy is a holistic healing system invented by Dr Samuel Hahnemann around 1800. Over the past two centuries, homeopathy has been steadily spreading around the world, and is currently estimated to be used by more than 300 million people in at least 70 different countries. Homeopathic remedies come in pill, tablet or liquid form. They are usually made from small amounts of naturally occuring materials such as plants or minerals. They are non-toxic and are safe to use for all ages and in all levels of health. As a holistic form of medicine with no side effects, homeopathy can also be safely used alongside other medications, such as herbs or pharmaceuticals.
Homeopathy can be helpful for symptoms of most conditions (diagnosed or un-diagnosed), such as: skin conditions, hormonal imbalances, autoimmune disorders, migraines, symptoms of anxiety, post-viral fatigue (e.g. long covid), digestive issues, etc. It can not only be used for physical conditions but also for mental/emotional symptoms. It works on a subtle level, by gently triggering the body's own healing ability. If used correctly, homeopathy might be the missing tool you need to be able to transform your life for the better.
Therapists Available
---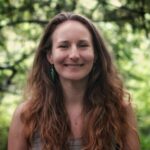 Anna Bihari
£30 for Follow-Ups (60 min)