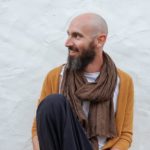 Jordan Paul
Dynamic Vinyasa Yoga: Sundays at 11:15 £11 drop in or £7 with Karma Card
Thai Massage: £50 for 1 hr (£35 with Karma Card)
£65 for 1.5hrs (£50 with Karma Card) £80 for 2hrs (£70 with Karma Card)
Dynamic Vinyasa Yoga
Jordan teaches a dynamic but accessible vinyasa yoga class every Sunday morning.  Classes are fun, varied, inclusive…and maybe a little bit challenging.
His classes explore asana, pranayama, meditation creating a well rounded practice that will allow you to slow down from the busyness of life and reconnect with the present moment through the body and breath.
Thai Massage
Thai Massage is a powerful massage therapy combining a number techniques such as deep tissue compression, assisted stretches and hot herbal compresses to release tension and tightness from muscles, bring more mobility to joints and a greater sense of ease into the whole body.
His massages are highly targeted and therapeutic and Jordan will customise a treatment specifically for your body.