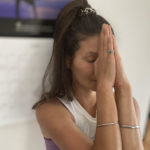 Tabather Bessey
Kundalini Yoga  classes:  
Mondays 7:30-9:00pm, Wednesday 9.15-10.45am
07437 836201
Tabather has been practicing yoga since 2001 and teaching as a profession since 2007. She has had the opportunity to teach in many places around the world including England, Scotland, Ireland, India, Thailand, Cambodia, France, Italy and Greece. She lived in Greece for over 5 years where she set up a small studio rooted in nature and infused with the elements. During that time she was an active member of the Athenian Sangat where she helped organise and take part in many events, including the first Greek Kundalini Yoga festival. Since moving back to England, she has become a mother and continues to mentor, teach workshops, community classes, 1:1s and offers an annual yoga holiday on the beautiful Greek island of Nisyros.
Tabather teaches Kundalini Yoga as a spiritual practice, generally adopting a theme or subject for a lunar cycle. In this way space and time is given to experience the different yogic concepts introduced and how they can be applied to everyday living. Her intention is to build community through the classes, share in group consciousness and encourage students to explore what they are capable of achieving. Each class can become a sacred pilgrimage into the infinite depths of being. She likes to bring a dynamic quality to classes that encourages humour and actively participates in awakening students to experience that anything is possible. For her, Yoga is a living, breathing practice constantly opening new doors of awareness and constantly creating, creativity.
Kundalini Yoga is a very holistic practice which includes all elements. The foundation of Kundalini Yoga is Kriya – a completed action. A Kriya can be one movement alone or generally a set of different postures flowing in a particular sequence accompanied by breath, mantra and mudra. The Kriya builds the foundation as a preparation for meditation and Kundalini Yoga is rich in its many different mediations. Each class will always include relaxation. This is a very special time which invites the body to repose, restore and become vital.
Testimonials:
Before I started attending Tabather's sessions, I was convinced that I was not a fan of yoga. I had tried it in the past and found it was 'not my thing'. I thought I would give her classes a try, because friends of mine rated her highly as a yoga teacher, and I was intrigued by Kundalini Yoga. I have not looked back since! Her way of teaching is warm, personable and knowledgeable; and she creates a safe, trusting space for those involved in the practice.  I have found these weekly sessions with her to be nourishing both for my body and soul. Tabather combines storytelling with a deep rooted understanding of human nature, on the journey that she takes us to explore our bodies and our minds. I recommend her highly to anyone who wants to understand what Yoga is really all about.'
– Angela, 41, Performing Arts Director and Facilitator. 
I have had an interest in yoga, and its benefits, for many years now – but Tabather literally lit the flame that makes me want to tell everyone I meet about the elation it brings me. It has changed the way I think and move through my everyday, teaching me morals as well as true strength and flexibility. Her knowledge is astounding – you learn amazing things in her presence. The practise itself is such a beautiful journey. Working with our breathing – which has been transformed. Sweating as you take yourself to another realm, through her kind instruction. Listening to the sound of the healing gong at the end of the practise. Beautiful mantra. Her transformative words. Then sitting after as we all sit in the safe space to discuss our experiences and just chill out together. Her warmth from when you walk through the door, is so welcoming – and has only ever made the practises so comfortable. I genuinely feel honoured to have been given the chance to be taught by Tabather. She made yoga an absolutely magical experience for me, and I am so so thankful. I can not recommend starting/continuing your yogic journey with Tabather enough.'
–Holly, 20, Illustration Student.