Thai Massage at About Balance Brighton
Grounded in ancient Thai Medicine and Buddhism, Thai massage was originally developed as a medical practice to prepare the body for the prevention of sickness and disease. It is still used very widely in Thai medicine today.
Thai massage is a very therapeutic form of deep tissue massage that's given over the clothes on a futon-style floor mattress. By applying a combination of acupressure and assisted stretches, this ancient healing art helps to remove emotional and physical blockages, open the joints, increase flexibility, release tension and encourage a profound state of relaxation, bringing the body back into balance.
Benefits of Thai Massage  
The aim of Thai massage is to encourage the body's natural ability to heal itself, through the sensitive touch and nurturing energy of the therapist. During a treatment your therapist will work methodically and therapeutically, releasing areas of deeply held physical tension and working to clear any stagnant energy or emotional blockages. This will create a deep sense of physical, mental and energetic ease, bringing you back to a sense of balance.
A beautiful description of Thai Massage in the 'physical application of loving kindness' and this is a quality that the therapists always bring to their treatments.  
Regular Thai massage can help relieve the symptoms of many physical and psychological conditions, such as headaches, neck stiffness, shoulder tension, back pain, anxiety, depression, insomnia, menstrual cramps, high blood pressure and stress.
What to Expect
A typical Thai massage takes 90 minutes (60 and 120min treatments are also available) and is given fully clothed on a futon-style mattress on the floor. Oils and balms are occasionally used where the therapist feels it is necessary, but the treatment is performed predominantly over the clothes.
It's best to wear comfortable clothes you can move in. You shouldn't eat for at least 1-2 hours before your massage and it's important to drink lots of water afterwards.
This is a deeply healing form of energy and bodywork, which will leave you feeling relaxed but energised, with an increased sense of overall wellbeing.
Relax… Breathe… Release
Therapists Available
---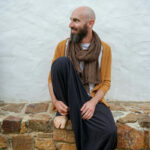 Jordan Paul
£60 for 60 min or £40 with
Karma card
£75 for 90 min or £60 with
Karma card
Contact: 07410919950, thaimassageinbrighton.co.uk, jordan@thaimassageinbrighton.co.uk