Power Hatha Yoga and Tibetan Singing Bowls at About Balance Brighton
These classes focus on the Hatha system of Asanas or postures and include yogic philosophy, meditation, pranayama, mantras, mudras and the force of the sun and the calmness of the moon to create balance and to relax the body and mind.
The lessons w have a Sankalpa each week to connect with your own Shakti or life force, we work on strengthening the core and whilst the Asanas will be relatively slow, as we hold them for a longer period of time, we will be working on the muscles and the tendons, giving flexibility and strength whilst drawing our senses to listen to our body in a state of meditation. There will be adequate time to recover in between poses.
During the lessons we will be focusing on the therapeutic side of the Asanas and the correct postures in tune with the breathing, giving instructions on how to move from one to the other, the correction of these when necessary to ensure they are helpful and not harmful, encouraging you to listen to your body and limitations and therefore taking responsibility.
Maku's classes will finish in shavasana and with a gentle meditation and the healing sound and vibrations of the Tibetan Singing Bowls.
तमसोमा ज्योतिर् गमय । From darkness, lead me to light
– Shanti mantra from the Brihadaranyaka Upanishads (1.3.28)
---
Teachers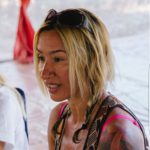 Maku Correa
Fridays 6:00-7:30pm
Read more about Maku Book a class