Chiropractic Care at About Balance Brighton
Helen's chiropractic approach can include Sacro -Occipital Technique, spinal and peripheral joint manipulation and mobilisation, cranial therapy, dry needling and soft-tissue work. Together with a specialist interest in pregnancy and paediatric care, Helen can meet every individual's needs. Every 'body' has the capacity to function at its best. Helen's aim is to help her patient's achieve this by removing imbalance or dysfunction and allowing the body to heal itself.
Helen maintains high standards of care by ensuring she is up to date with evidence-based practice and continuing professional development courses throughout the year. It is sometimes in the patient's best interests to have collaborative care with another practitioner for adjunctive therapies and exercises such as Pilates or Yoga, or appropriate medical referral as necessary.
Whether patients are interested in chiropractic simply as a back or neck pain solution, it can also be invaluable for wellness and maintenance care for those whose health goal is to be proactive rather than reactive.
Therapists Available
---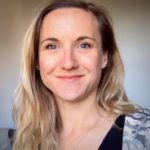 Helen Taylor
Initial Session: £55 for 60 min or £45 with
Karma card
Follow-Up Sessions: £42 for 30-45 minutes o
r £37 with
Karma card
Contact:
07718208743,
helentaylordc@gmail.com