Hypnotherapy at About Balance Brighton

Moving from problems to solutions…
Do you want something to lose?
Or gain as clarity, energy, direction, peace, self-confidence, forgiveness, mindfulness, relaxation, happiness…?
Solution focused psychotherapy focuses on the client's preferred future rather than problems of the past or present. It is goal oriented and practical and recognises that the client has resources and strengths that will contribute to the solution.
I may also use EFT (emotional freedom technique) tapping as one of the tools in a session if needed. EFT is based on traditional Chinese medicine and involves the client tapping with their fingers on acupressure points and meridians in order to reduce the intensity of our emotions.
Can anyone be hypnotised?
This is one of the most common questions. Anyone can be hypnotised if they want to be. We experience daily this natural state of mind all the time; if you've ever daydreamed, or become so absorbed in a book or film that you lost track of time, you have experienced a state similar to hypnosis. People cannot, however, be hypnotised if they don't want to be, since the individual remains in control at all times.
Will I lose control during hypnotherapy?
No. You remain relaxed and in control throughout. You are always in charge; I only facilitate this process. During hypnotherapy, you will not be made to do anything you do not want to do. Hypnotherapy differs from stage hypnotism in that hypnotherapy empowers the client and the client's best interests are at heart. It's a feeling of relaxed focus, a bit like daydreaming.
What if I'm still undecided?
If you still have questions about hypnotherapy, give me a call or book in a FREE 15 min initial assessment to meet face to face. You can ask any questions and decide if I'm the right therapist for you.
What are you like as a therapist?
My approach is tailored to your own unique personal needs, I am caring and effective and I enjoy excellent results. I see myself more as a facilitator to encourage desired change, then as a coach to teach you missing skills, then as a therapist. Or I simply just sometimes hold a space for you in a safe way. My goal is to support you in reaching your goal in the shortest time possible to produce long lasting change that gets to the root of the issues you're experiencing. Your needs always come first and you will be listened to and treated as an individual. I am here for you.
Does hypnotherapy work?
Yes, hypnotherapy can be amazingly powerful at helping people to make the changes they want to make in their lives. However, it is not a miracle cure – it still requires work and commitment on your part. I don't snap my fingers and 'cure' you. It is a collaborative partnership where you and I work together to overcome an issue. Please see the testimonials on my profile page for what others have said about hypnotherapy with me.
What does hypnotherapy feel like?
It feels great! It is a pleasant, relaxing and enjoyable experience. Some clients describe it as being like an enjoyable daydream, and some enjoy it so much that they want to stay for longer in that relaxed state. You remain aware and in control at all times and leave relaxed, yet alert.
How does stage hypnotism compare to hypnotherapy?
Stage hypnotists thoroughly vet their participants beforehand – they choose extroverts who want to perform on the stage and who would not embarrass themselves or the hypnotist by not playing along. Since hypnosis cannot make someone do something they do not want to do, the participant subconsciously wants to do as the hypnotist asks and play along. Although this can demonstrate the power of hypnosis, it differs from hypnotherapy in a number of ways. Hypnotherapy aims to get to the root cause of your issue or problem, and I work with you to empower you and help you to make these changes. Your best interests are always at heart, and your integrity is of the utmost importance.
How much do you charge and how many sessions do you need?
I charge £55 for 90 to 120 min with or without a karma card as it's already a very promotional rate. I do however offer some concessions. Most clients have around 6 sessions. I recommend at least 3 because most clients will start to see real permanent results after the 3rd session, but also permanent change could be archived after only one treatment!
Let's have a chat to help you decide if hypnotherapy is right for you and if I'm the right therapist. There's no hard sell and I'll be happy to answer as many questions as you like. If I don't think hypnotherapy is right for you or your issue I won't take you on as a client, but I may be able to advise you on another type of therapy.
How many sessions will I need?
For stopping smoking 1 or 2 sessions are usually required, of around 1.5 hours. For most other issues my clients are happy with the results after around 3-6 sessions. It can really depend on the complexity of the problem and the number of sessions can be agreed by the you and I together. Therapy will be completed when you feel ready and have achieved the results you desire.
How do sessions generally run?
Usually the first session is an initial assessment; it's important to find out as much information as possible and to find the root cause of what you're experiencing so that a treatment plan can be tailored especially for you. After that, during hypnosis, your conscious mind will get into a relaxed state and I will give your subconscious mind helpful suggestions designed to help you to make positive changes.
Can you guarantee results?
I don't guarantee results since I cannot take full responsibility for the changes you make. I can, however, guarantee that you will be satisfied with how our session together goes. If you are unsatisfied with how the session went I will be happy to offer a session free of charge or a refund on the session.
Areas of hypnotherapy I deal with:
Addictions

Alcohol abuse

Anger management

Anxiety

Blushing

Bruxism

Childbirth

Chronic Fatigue Syndrome

Depression

Drug abuse

Eating disorders

Exam nerves

Fear of flying

Food addiction

Gambling addiction

Gastric band hypnotherapy

Insomnia

Irritable bowel syndrome

Low self-confidence

Low self-esteem

Obsessions and compulsions

Pain management

Panic attacks

Phobias

Post-traumatic stress disorder

Public speaking

Quit smoking

Relationship issues

Relaxation

Sex addiction

Sexual issues

Sleep disorders

Sports performance

Stress

Stuttering

Tinnitus

Weight loss
Vilija (hypnotherapy practitioner) says:
"I am fully insured, any information is fully confidential and I am a member of the General Hypnotherapy register.
A combination of acupuncture, solution focused psychotherapy and hypnotherapy can be used in a session, depending on the client and the issue they'd like to work on. During a treatment the client is fully aware and in control at all times of everything that happens.
If you're unsure whether these therapies can help you, or you'd like any further information, please contact me."
Therapists Available
---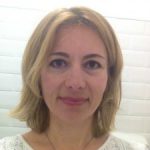 Vilija Pascal Lic.Ac.BSc (hons) Ac, Dip Hyp Psych
£75 for 90 minutes or £60 with
Karma card