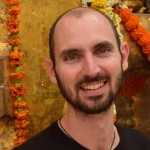 Jordan Paul
Massage: £55 for 60 mins or £40 with a Karma card
£70 for 90 mins or £55 with a karma card
Contact:
I offer Thai Massage at About Balance. In 2014 I qualified as a Thai Massage practitioner with the highly experienced Christine Townley of the Sussex Thai Massage School, one of the first people to bring the practice of Thai Massage back to the UK from Thailand. I've been giving massage treatments in Brighton for the last two years. I also offer deep tissue and swedish massage.
I have been practising yoga regularly since 2010. As well as improving my physical health, yoga opened up a whole new world to me, and combined with other aspects of Eastern philosophy, it brought about a positive change in attitude towards life that I really want to share with as many people as possible.
I completed my 200hr teacher training with Tribe Yoga in Goa at the end of 2014. My dynamic hatha yoga classes are based on Ashtanga Vinyasa, using the postures and principles of this amazingly therapeutic system to create classes focussed on self-enquiry through asana, pranayama and meditation.
My aim in all my massage and yoga teaching is to give people the opportunity to become aware of the incredible miracle, and natural intelligence of their own bodies. One of the best descriptions of Thai Massage I have heard is that it is the 'physical application of loving kindness' and this is the attitude I like to bring to all my treatments.
My quest is to make people feel good and unwind from the accumulated stresses held in the body and mind as a result of modern day life. Through both massage and yoga I hope to help people become happier, healthier and more peaceful human beings.
Please get in touch to arrange a massage appointment or I look forward to welcoming you to my yoga class soon.
Massage testimonials
"Bliss! This is the word I pick to sum up my Thai Massage from Jordan. I was apprehensive at first because I had never had a Thai Massage before. This feeling instantly ceased the moment I laid down. It was easy to see that Jordan really knows how the body works! During the massage I was in a completely serene state. I could feel sensation and movement in places that are often overlooked or neglected. After my massage my entire body, mind and even spirit was lifted and this delightful feeling lasted all day. I am so happy to have had this experience and I hope he shares this skill with as many people as possible." – Morija
"Having a Thai Massage with Jordan is a deeply relaxing experience. You feel that you are being very well looked after and in capable hands. I always feel calmer afterwards. I love the combination of stretches and acupressure and best of all the soothing face massage, try not to nod off and miss that bit!" – Claire
"I recently had the pleasure of having an hour and a half Thai massage with Jordan. Having had Thai massage for the last 10 years, I can honestly say that Jordan certainly knows his stuff and his technique is on par with the Thai's themselves. Thank you and I will most certainly be back!!" – Chadia
"Jordan had a very calm and reassuring presence and immediately made me feel at ease. His massage was extremely relaxing and a much more embodied experience than other types of massages I've experienced, and as such was more effective in terms of releasing the emotional and physical stresses and strains that we hold in our bodies. Highly recommended." – Vick