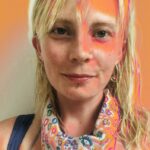 Phoebe has a fascination with how altered states can be harnessed for healing from trauma, expanding our consciousness and coming into divine alignment with one's own truth, so we may better serve ourselves, the earth and all it's beings.
This journey has seen her train as an art psychotherapist and psychedelic integration therapist, explore the links between psychosis and spiritual awakenings, speak in conferences about the therapeutic use of psychedelic medicines, and train as a breathwork facilitator.
She has been practising yoga, principally Kundalini, since she was 19, and has developed a rigorous spiritual practise that underpins her teaching. Phoebe endeavours to make classes accessible for everyone- the very essence of the breath is it's universality.