Sound Therapy at About Balance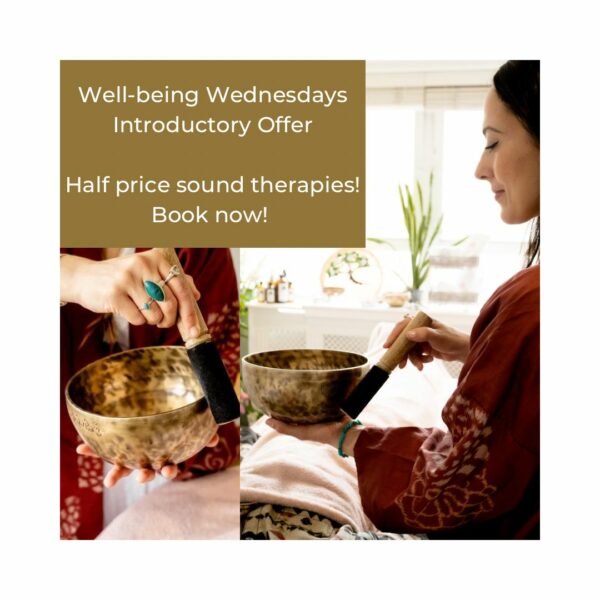 Sound Therapy
Do you feel stuck, or living in fight or flight and want to move forward with greater clarity and focus? Regular soundbathing has many health benefits. Studies have shown it can reduce anxiety and depression and help calm our nervous system. When we feel grounded and calm, we can concentrate better and make more empowering life-choices. In this programme we will use sound intentionally to bring insight to areas of your life you feel stuck in. Watch the miracles unfold!
Come and experience our wonderful sound therapy sessions.
Like a massage for the cells and your soul. Sound therapy works on a deep and profound level and has been shown by studies to help with anxiety, depression, 
pain management and PTSD symptoms. Backed by science, this is a wonderful 
therapy.
This powerful technique will help you embrace inner calm, improve your mood and bring better sleep and greater clarity. Lay down, relax and drift away. Wonderfully restorative and deeply soothing to the nervous system. These relaxing and uplifting sound therapy sessions are tailored to you and can feature Tibetan bowls, or tuning forks, the drum, voice and soothing percussion instruments. Guaranteed to leave you feeling restored, soothed and uplifted.
About Emma:
I am passionate about delivering sound therapy because I have seen first-hand the amazing results these treatments can bring. I love it's gentle, yet powerful and transformative nature.
I have a diploma in sound therapy from the International Association of Sound Therapy and am grateful to have been trained by two of the most respected sound therapy experts in the sound therapy field. In my spare time I love playing the harp and singing mantras.
Testimonials:
"What a treatment! I can't thank Emma enough for a beautiful experience!
I felt so held in her presence… I had this treatment when I was going through a
breakup and it allowed me to further aid my healing. She mixed sound therapy
with her beautiful singing and took me to a special place. Thank you Emma I
can't wait to have another session one day."
-Ross
" Deeply grateful for the healing you have brought into my life. During our sessions I have felt so held and nurtured. It has helped me to feel calmer and more grounded and I definitely feel that I have made better life choices as a result. Thank-you"  – Emily
"Emma is a very intuitive healer. She so fluidly combined her skills as a sound therapist, reiki healer and ayurvedic massage practitioner to offer a really unique and comprehensive treatment. I felt lighter and like I had released so much energetically and physically. I would love another treatment soon. Fabulous Emma, thank you"
-Natali
Prices:
One Hour Chakra-balancing Sound Journey for one
£55 without Karma Card
£40 with karma card Membership
£42.50 NHS worker discount
Transformational sound journey 4-week programme:
£152 (£38.50 per session) when block booking four sessions in a month