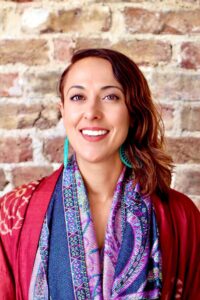 About Emma:
Emma is an Ayurvedic practitioner and sound therapist who runs an ayurvedic practice in Brighton called Balance and Bloom Ayurveda. She delivers a range of treatments and health consultations which are designed to restore, reset and heal, in order to help bring an individual's body back into balance.
Working with the physical and subtle body in Ayurveda. She offers tailored massage and sound therapy treatments designed to balance the chakras by clearing energy channels in the body, moving and unblocking toxins and clearing stagnant, or blocked energy, allowing it to flow properly through the body by using pressure points, or marma points.
Emma says "Ayurveda translates in Sanskrit as "the science of life". It is a wisdom tradition that is more than 5,000 years old and came from The Indus Valley, which is an area now known as Northern India and Pakistan where my ancestors originate from. It has been passed down from master teacher to student throughout that time.
In Ayurveda there are three biological forces that are responsible for functions in the body. These are called doshas and they need to remain balanced in order to prevent conditions where disease can take hold.
As an ayurvedic massage therapist the focus is help bring a client's body back into balance by helping to balance doshas and release toxins and blocked energy.
Emma also offers longer health consultations as an Ayurvedic health practitioner to assess a client's unique constitution and work with these three biological forces in the body to help clients understand how they can balance their body, mind and spirit through diet to create conditions where their bodies can heal themselves. The aim is to help people uncover their own their innate wisdom, so they can live in healthy, happy harmony with their bodies and the world around them. My Indian grandmother is a big inspiration for me. She lived in a temple in Singapore and used to deliver ayurvedic massage treatments and give spiritual and lifestyle advice. She lived a very healthy life until she died aged 101.
She says " I am passionate about what I do because I truly understand and have seen the power of Ayurveda and sound therapy to transform and help individuals who want to make healthy changes and be more at peace. Having an Ayurvedic massage is like having an MOT for your body. When I see people feel better after treatment. It makes me happy."
Emma is reiki level two and has trained with The California College of Ayurveda for five years, where she is currently training to become a Clinical Ayurvedic specialist. She is also a 200 hour YTT and has a Diploma In Sound Healing from The International Association Of Sound Therapy. She has also trained at The Chopra Centre and with Vasant Lad. In her spare time she enjoys meditating, breathwork, art, playing the harp and singing mantras.
Emma's Qualifications
Diploma of Ayurvedic Massage
200 hours Yoga Teacher Training
Diploma in Sound Therapy
Emma's Testimonials
Thank you for such a blissful and therapeutic massage. I really needed to unwind and release some tension. You certainly helped me to do that. I also appreciated your knowledge and understanding of how the body works. You are very gifted and can't wait for my next one.

-Hazel



Emma is a very intuitive healer. She so fluidly combined her skills as a sound therapist, reiki healer and ayurvedic massage practitioner to offer a really unique and comprehensive treatment. I felt lighter and like I had released so much energetically and physically. I would love another treatment soon. Fabulous Emma, thank you

-Natali



I had the most incredible Full Body Abyhanga massage from Emma and felt like I was floating on air afterwards!  A truly beautiful experience.  From my initial consultation to the treatment itself Emma was fantastic and thorough.   I felt the tension in my upper back and shoulders released my whole body and mind felt incredibly relaxed afterwards. Emma's passion for her work shines through and can't wait to book another session

– Laura



What a treatment! I can't thank Emma enough for a beautiful experience! I felt so held in her presence…
I had this treatment when I was going through a breakup and it allowed me to further aid my healing 
She mixed sound therapy with her beautiful singing and took me to a special place 
Thank you Emma I can't wait to have another session one day. 

-Ross