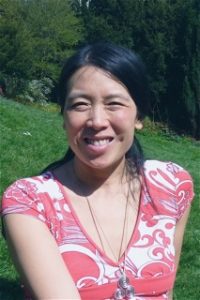 Sukhi Tsang
Treatments:
£50 per hour or £35 with Karma card
£65 for 90 minutes or £50 with Karma Card
Contact: premsukhi@gmail.com, www.sukhihealing.com
Sukhi is a passionate bodyworker and aims to relieve pain through conscious and healing touch. She has been trained in this art by the renowned Jing Institute of Advanced Massage, and as so have learned techniques fused from the West and the East, resulting in an amazing and effective, yet relaxing deep tissue massage.
Her love of healing has led her to learn many different techniques within the sphere of Emotional Release through bodywork. With this experience she is able to recognise and can readily assist with emotions that are stuck in the body. Sukhi is also Aura Transformed.
Qualifications:
Fully Qualified Massage Therapist (Jing),
MA (Hons) Humaniversity Psychology
Reiki (Level II)
Clinical Pregnancy and Postnatal massage, Jing Advanced Massage Training for all 4 trimesters.
"One of the loveliest massages I've ever had. Sukhi's friendly and professional approach made me feel relaxed and comfortable, and her skilful combination of techniques helped my stresses and tension just melt away. I left feeling grounded and rejuvenated – thank you Sukhi for some much needed relaxation and rejuvenation." Rani Louise
"When you book a session with Sukhi you can be assured you will be in very safe, capable hands. She combines precise technique and a caring nature into a wonderfully nourishing massage experience." Julia