Chakra Healing at About Balance Brighton
Chakra Healing treatments are 60 minute one-to-one sessions with Grace Scarvaglieri.
This healing treatment can provide clients with a high vibration of energy, self-love and peace of mind. The treatment consists of a meditation, a chakra reading using oracle cards, and healing with angelic guides.
The treatment explains what is happening within each of your chakras and the reason behind blockages and imbalances. During the meditation, we activate the chakras, which can create a vortex of synchronicity. We then call in angelic guides to help us remove old and negative energies, and become more receptive to new and positive energies.
After the session, clients have been reportedly feeling more empowered and were able to transform their lives for the better.
Therapists Available
---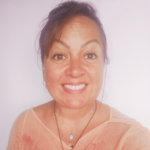 Grace Scarvaglieri
£50 for 60 min or £35 with
Karma card
Contact:
07766573491,
feil1710@hotmail.com, @grace.mentoring