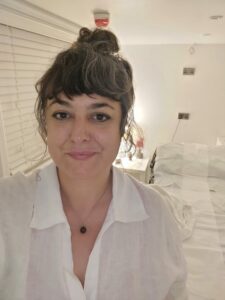 About Zoe:

As a Vajrasati Yoga Teacher my aim is to create a safe and nurturing environment for practice.


I am from a Psychology background and for the past 15 years I have been working in well-being, mainly as a massage therapist. This has fuelled my fascination with the brain-body (and breath) connection. Specifically, the impact of serotonin and oxytocin on many health issues and disorders such as mood, sleep and pain.


I have a body positive, compassionate, humorous, down to earth and wholly inclusive approach, suitable for all, with focus on soothing the nervous system and increasing mobility.


These classes allow us to build a firm foundation in our asana practice and beyond, that would suit absolute beginners or those deepening their practice, finding out what yoga has to offer.


With 15yrs experience of massage, a Bsc in Psychology and qualified Vajrasati Yoga teacher, Zoe understands the importance of the mind body equilibrium. Using her intuitive approach to the energy systems of the body, as well as her robust knowledge of anatomy and physiology of the body, nervous system and brain. Combining techniques she tailors each massage to a clients needs. This works to provide a nurturing, compassionate and even powerful treatment which is deeply relaxing to body and mind
Testimonials:
"A treatment with Zoe can't be recommended enough, she has a warm and caring energy that shines through and makes you feel relaxed before she even begins to work her magic. She has an incredible intuitive gift, she is able to find all the places you need some attention. I always feel lighter and more relaxed within and without after a treatment with Zoe" – HR
"I've been coming to Zoe for years! Her super power is instantly finding my exact sore spots and I feel so well and happy in my body after" – DN
"I find Zoe of 'Zoga Bhoga Yoga' to be a very relaxed instructor, and like that she takes things at a pace suitable for both beginner or the more experienced, matching poses to suit us all accordingly. I really love Zoe's classes and feel invigorated, soothed and at peace following her classes. I find it easy to follow her instruction and like how she will often explain the pose and its benefits as we go. Highly recommended."