Flow Yoga Classes in Brighton
A flowing style of yoga that moves with the breath to renew, uplift, build strength and flexibility.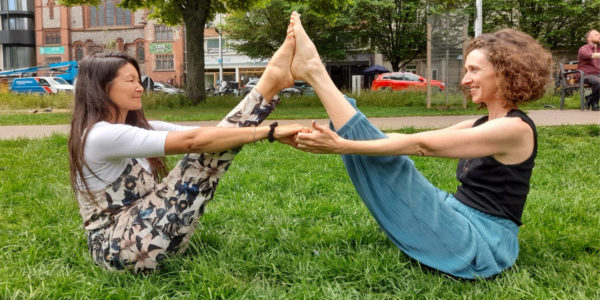 Classes
Hatha Flow Yoga – Mondays 5.45pm – 7.00pm
This is an invigorating yoga class for refocusing your mind and rejuvenating your body. We practice traditional Hatha yoga poses in a flowing sequence to energise your body and relax your mind. Mindfulness; observing breath and body are an integral part of class. Clear instructions on correct alignment are given to minimise a risk of injury. Get ready to feel alive, stretch, tone and detoxify. Long guided relaxation in the end of the class will leave you relaxed and reset for the week ahead. This class is good for stress relief. All levels welcome.
Teacher: Jitka Andrlova
Lunchtime Flow Yoga – Tuesdays 1.10pm – 1.55pm
Encouraging you to stay curious with each movement as you let the breath guide the body through this lunchtime flow. Connecting back to the self via breath & movement to help you feel both rested & rejuvenated
Teacher: Cassandra Hunwick
Strong Vinyasa Flow – Tuesdays 5.45pm – 7.15pm
Vinyasa Flow Yoga is a playful and physical form of yoga that will lift your spirits and energy levels while increasing flexibility, focus, strength and balance. The breath is the key element in the flowing sequence of postures, allowing you to connect with your body, mind and soul in a way that is nourishing, detoxifying and strengthening.
An intermediate Vinyasa Flow class unfolds into a rhythm, with fluid transitions, finding your edge between challenge and surrendering. While gracefully experimenting with some more advanced postures or options to take your practice a step further, this class will empower and invigorate you. Playful and unwinding at the same time, movement with a clear intention to open up the body and go home with a relaxed and meditative mind.
These classes are not suitable for absolute beginners, as the sequences are a little stronger and more challenging and require a basic understanding of the main yoga poses and their alignment.
Although these classes are invigorating, they are an invitation to work with your body and energy as they are now. So more than obtaining the perfect pose, the real practice lies in the development of transformative qualities such as acceptance, surrendering and expanding your personal boundaries, creating value on and off the mat.
Teacher: Gabriella Cook
Tranquil Flow Yoga – Tuesdays 7.30pm – 8.45pm
Tranquil Flow Yoga includes minimalistic yoga sequences that allow you to to experiment and discover what works for your body. This class is considered as a less intense, meditative & nourishing practice. Postures may be approached in gradual steps, with focus on breathing and sufficient time to employ props and make adjustments. There will be a variety of standing, seated, supine postures as well as relaxation and meditation.
No yoga experience is required.
Teacher: Evdokia Koutoumpa
Modern Dynamic Flow – Thursdays 7.00pm – 8.15pm
Dive deeper into an energising Yoga practice. This is a mixed level dynamic class, no yoga experience is required.
Expect a combination of physical and mental exercises that help improve your posture, strength, mobility and mood.
This class is focused on building up heat, thereby prepares the muscles for deep stretching. You will explore a balanced combination of sustained dynamic poses flowing in a mindful progression.
Modern dynamic flow Yoga is inspired by this incredible rich pattern of energy within the body. As the flow immerses, a feeling of energised focus rises. You will find a full involvement of the body, mind & spirit.
Teacher: Evdokia Koutoumpa
Authentic Hatha Yoga – Saturdays 10.45am – 12.15pm
Authentic Hatha Yoga brings the best from the classical ancient yoga, focusing on physical health and mental well-being. Hatha Yoga uses bodily postures ( asanas), breathing techniques ( pranayama), meditation (dyana) and yogic philosophy.
This class is a combination of energetic flow, strong standing sequence and meditative longer holding postures to stretch and release the connective tissue. We use mindfulness of the body and breath, focusing on correct alignment, learning the healing benefits of each technique and feeling energy movement through chakras ( energetic centres in the body).
This class is suitable for beginners and experienced yogis alike.
Teacher: Jitka Andrlova
Mindful Flow – Saturdays 12.45pm – 2.00pm
Come join this class to get back to the body, and give yourself space for exploration and experience. In this class you will move through sun salutations and playful sequences to bring energy and awareness to body and mind. This mindful practice invites us to explore breath, flow and stillness to take us compassionately on a journey inwards and leave us feeling a little more connected in body and mind.
This is an open level class, suitable for beginners and those more experiences, and all identities and bodies are welcome.
Teacher: Lou Thomas
Soulful Sunday Flow – Sundays 11:15am-12:30pm – 8.45pm
This class offers a smooth and solicing yet playful and revitalising yoga style to embrace that Sunday morning feeling. To the rhythm and vibes of eclectic music and using a varying selection of yogic practices and philosophies, Flo creates sequences that will rejuvinate your spirit, loosen up and strengthen your body, and calm your mind.  
 is available for all levels as Flo is mindful to help everyone build awareness of their individual bodies. The flow is fun and energetic but never too fast, and where there are challenging postures to try, alternatives, guidance, and space for query will always be given.
Teacher: Flo W Ryder