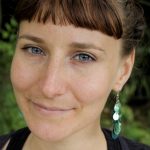 Anna Bihari
Treatments:
£45 for 60 minutes or £30 with Karma card
£60 for 90 minutes or £45 with Karma Card
£80 for 120 minutes or £58 with Karma Card
120 minutes sessions are combinations of two different treatments (Body Massage, Indian Head Massage, Reiki, Reflexology)
---
My practice at About Balance is mainly focusing on pain relief and relaxation through body massage, Reflexology and Reiki (hands-on).
I believe that touch therapy is one of the most important ways to raise our awareness. On an average workday, we are not much aware of our body, of our posture, of where we hold tension, and we are not aware of our mind either. We often let our thoughts wander and/or run in circles. Sometimes we have to stop and observe what is going on. Touch therapy is one of the many ways of doing this, and it is certainly one of the most pleasurable ones.
I am trained in a variety of massage styles and usually combine techniques to bring about the best results. All treatments start with a brief consultation and drawing up a quick treatment plan. Massages can be either relaxing or remedial, but most of the time they are a combination of the two. My techniques are sometimes very slow, deep and localised, or more refreshing, flowing and energizing. It really depends on your wants and needs on the day, and I always carefully listen and alter techniques to meet your expectations.
I am originally from Hungary, where I studied Philosophy. Part of me would have happily stayed at the University to do further studies, but I was also curious to do something different, work more with people and less so with books. After receiving my degree, I have moved to London in 2013 to see more of the world. I have met my Reiki Master there (such a humbling experience), done the training with her, and later moved to Brighton where I have started studying anatomy and massage. I have now completely fell in love with doing treatments and with working as a therapist. It is a truly rewarding way of life. It makes my days filled with smiles and my evenings with the feeling of gratitude.
My qualifications to date:
Reiki Usui Shiki Ryoho Level 1 and 2 Certificate
VTCT Level 3 Certificate in Anatomy, Physiology and Pathology
VTCT Level 3 Certificate in Swedish Massage
VTCT Level 3 Certificate in Indian Head Massage
Diploma in Deep Tissue Massage
Diploma in Pregnancy Massage
Diploma in Facials
Foundation Diploma in Advanced Clinical Massage Techniques for Treating Pain
VTCT Level 3 Certificate in Reflexology
I am now working towards a qualification in Homeopathy, and if all goes well, I will finish my four-year course in 2023