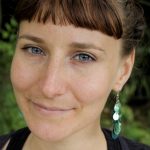 Anna Bihari
Treatments:
£45 for 60 minutes or £30 with Karma card
£60 for 90 minutes or £45 with Karma Card
Tarot Reading: £25 for 45 minutes or £18 with Karma card
Contact:07821864695, annabholistic@gmail.com, www.annabholistic.com
---
Anna started her holistic therapy journey in 2013, when at 25 years old, she was looking for relief from chronic pain. By the end of her first treatment, she knew that holistic therapies will not only help her relieve chronic pain, they will also keep her healthy and will continue to be a lifelong interest of hers. Three years later, she has started her own practise in Brighton and she is now humbled to have the opportunity and ability to help other human beings on their journey towards optimal health.
Anna's practise mainly focuses on pain relief and support through massage. She also has a strong foundation in energy healing and a varied spiritual practise.
Anna's qualifications to date:
Reiki Usui Shiki Ryoho Level 1 and 2 Certificate

VTCT Level 3 Certificate in Anatomy, Physiology and Pathology

VTCT Level 3 Certificate in Swedish Massage

VTCT Level 3 Certificate in Indian Head Massage

Diploma in Deep Tissue Massage

Diploma in Pregnancy Massage

Diploma in Facials

Foundation Diploma in Advanced Clinical Massage Techniques for Treating Pain
Anna is on a Reflexology course until June 2019.
Her usual hours are limited to 9am to 9pm on Saturdays.
She also has some slots available on some Fridays, mostly in the afternoon/evening.
To book an appointment, please contact Anna directly.
Client Feedback:
Anna has a beautiful touch and a kind heart. Her treatments always heal the mind body and soul. Lovely therapist. – Charlotte
Anna is so lovely. I had an amazing deep tissue massage as my shoulders were stiff and my thighs were super tight due to running. Would highly recommend! And I can't wait for my next treatment. Thanks Anna! – Heather
I was moved by the specifics of the reading. Your interpretation underscores what several messengers have told me, and it has brought a greater clarity about possible directions that I might pursue. – Vicki