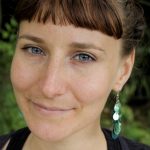 Anna Bihari
Treatments:
£50 for 60 minutes or £35 with Karma card
£65 for 90 minutes or £50 with Karma Card
---
"I have seen many therapists in the past, and Anna is by far one of the best ones. I feel like she is working perfectly in tune with my muscles and body." (Laura)
"Naturally skilled and talented. Anna's spark is in her open acceptance and warmth and in a deep sense of purpose." (Edward)
"Anna has a beautiful touch and a kind heart. Her treatments always heal the mind body and soul. Lovely therapist." (Charlotte)
About Anna Bihari.
Anna is trained in a variety of massage styles so she can combine techniques to bring about the best results. All sessions start with a brief consultation and drawing up a quick treatment plan. Anna's treatments are sometimes very slow, deep and localised, and sometimes more refreshing, flowing and energising. It really depends on your wants and needs on the day. She always carefully listen to both what you say and what your body whispers to me, and alter techniques and pace accordingly.
Anna Bihari works as a holistic therapist since 2015 and it has been an amazingly fulfilling journey so far. I absolutely love doing what I do, and feel that I have found my purpose in life.
Book your treatment with Anna below:
Anna's qualifications to date:
Reiki Usui Shiki Ryoho Level 1 and 2 Certificate
VTCT Level 3 Certificate in Anatomy, Physiology and Pathology
VTCT Level 3 Certificate in Swedish Massage
VTCT Level 3 Certificate in Reflexology
VTCT Level 3 Certificate in Indian Head Massage
Diploma in Deep Tissue Massage
Diploma in Pregnancy Massage
Diploma in Hot Stone Therapy
Diploma in Facials
Foundation Diploma in Advanced Clinical Massage Techniques for Treating Pain
I am now working towards a qualification in Homeopathy, and if all goes well, I will finish my course in 2023.