Meditative Yoga Classes in Brighton
Classes which focus on the mind as much as the body; connecting the mindbody through movement.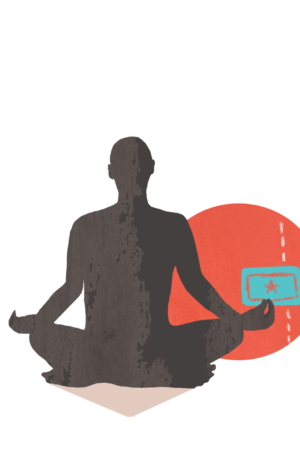 Lunchtime Beginners Yoga with Donna – Mondays 1.10pm-1.55pm
This class combines yoga philosophy and embodied practices such as meditation, mantra and pranayama.
Donna's aim is simply to share this practice as a means to realise the ultimate potential in all of us. To integrate mind, body and soul on and off the mat. To live fully, holistically and happily. Classes are crafted with a meditative feel, a deep dive into the movements of the body through āsana (poses) and the subsequent releasing of tension and stress through the breath. Instructions are guides towards an experience rather than a goal – authentic and heart centred. Weaving some anatomy and philosophy throughout – pointing towards the deeper aspects of our being. Leaving students feeling calmer, more connected and peaceful.
Her mantra and wish for all her students: Be yourself, realise your true essence, feel good.
Lunchtime Mindful Yoga – Wednesdays 1.10pm – 1.155pm
Classes will explore yoga postures (some restorative, some stronger), breathing techniques (pranayama) and meditation. Tammy's approach is friendly, playful and joyful, with an emphasis on kindly awareness of our bodies as they are in the moment. Tammy's intention is for students to leave the practice feeling lighter in body and mind, and for this to resonate throughout the rest of the day.
Suitable for everyone.
Teacher: Tammy Mccann
Community Meditation (Virtual Only) – Thursdays – 8.15am – 8.45am
Suitable for everyone. Tammy will lead this meditation with gentleness, clarity and accessible language. The practice will promote ease and acceptance of the body and mind, and guide you into the day with kindness towards yourself and others. Tammy draws on her deep experience of yoga, meditation and alternative practices to create a sense of sharing and community in the meditation, so that everyone feels held, connected and in touch with the present moment – the precious moment.
Teacher: Tammy Mccann
Vajrasati Yoga – Wednesdays 6.00pm – 7.15pm and Fridays 12.15 – 1.30pm
Vajrasati yoga combines the postures, breathing and meditation techniques of classical/modern postural yoga, along with innovative explorations outside 'traditional' postures from a conscious, subtle and energetic alignment perspective.
The classes are always suitable for all levels and won't fail to integrate the newest student whilst providing a fresh perspective for very experienced students. Accessibility for the newcomer with detailed clear instruction and depth for even the most experienced practitioners allows for an inclusive practice which is at the heart of Vajrasati yoga.
Vajrasati draws on traditional teachings of yoga philosophy and brings them to life through an embodied understanding to truly give the student the experience of yoga/union beyond just a physical exercise, but a whole-being experience.

Authentic Hatha Yoga – Saturdays 10.45am – 12.15pm
Authentic Hatha Yoga brings the best from the classical ancient yoga, focusing on physical health and mental well-being. Hatha Yoga uses bodily postures ( asanas), breathing techniques ( pranayama), meditation (dyana) and yogic philosophy.
This class is a combination of energetic flow, strong standing sequence and meditative longer holding postures to stretch and release the connective tissue. We use mindfulness of the body and breath, focusing on correct alignment, learning the healing benefits of each technique and feeling energy movement through chakras ( energetic centres in the body).
This class is suitable for beginners and experienced yogis alike.
Teacher: Jitka Andrlova
Yoga and Meditation – Sundays 6.00pm – 7.30pm
This class offers a balance between movement and lovely deep stretches, and the stillness found through breath work and meditation.
Usually we will spend the first hour moving, warming up the body with sun salutations, and holding postures. There will often be a slightly longer held restorative pose at the end of posture practice, and an awareness of breath throughout. Sometimes mudra or Chakra awareness may be incorporated.
We then take half an hour in breath work, meditation and relaxation. 
It feels like a lovely rhythm to flow from movement to stillness- from postures, to breath work, to meditation. I find this helps to go deeper into meditation. There often feels like such a quietness around us all at the end of class. Definitely a Sunday wind down! 
Teacher: Stephanie Eastwood

Flo W Ryder
Sunday 11:15am-12:30pm
Classes: £11 or £7 with a Karma Card
Fridays in January 7th, 14th, 21st, 28th
5-6:15pm
Workshop: £60 or £45 with a Karma Card
---
Yoga with Flo
Flo qualified as a multi-style yoga instructor in the foothills of the Himalayas, Dharamshala, India. Whilst living and teaching yoga in Sri Lanka for 2 years, she returned to India to complete an advanced teacher training focused in yoga therapy, this time in the Southern city of Chennai.

Combining a practical background in healthcare, academic study and interest in diverse cultural medical paradigms and her own personal healing experiences Flo passionately believes yoga to be a supreme path to healing and self-fulfilment. As a teacher with an therapeutic orientation, she endeavours to assist in each individual person's journey to find what they need from yoga, and help them use their yoga practice to flow more smoothly with the world around them.

Flo also loves the joy of meditative movement, the thrill of attempting into a new pose, and generally connecting mind, body and sould through yoga. She embraces myriad different styles, forms and aspects of yoga – ancient, modern, and other diverse influences to explore and offer creative classes to facilitate a transformative experience through each class. She can adapt to each persons' individual physiological needs as well as the energy of the group.

Flo's classes offer enjoyable challenges, as well as the chance to relax the bodymind and restore the universal connection.

Flo believes that every body, every mind, and everyone can benefit from yoga, they just have to find out how to make it work for them. Without worrying about how an asana (posture), pranayama (breathing control), meditation technique and even lifestyle choice "should" be done, she encourages each person to find wholeness and joy in their practice with her.

500hr YTT

MSc Medical Anthropology
Wednesday Vajrasati Yoga and Self Massage with Wooden Stick with Tom – Wednesdays 7:30pm – 8:45pm
In this class we will explore modern postural yoga poses to help release tension in the body and use different wooden sticks (rakus) and a wooden staff to create space for us to breathe more freely and support deep rest and relaxation.
Are you looking to shift stuck patterns of pain/stiffness/discomfort?
Do you want help and support to rest and sleep better?
Do you want to practice yoga in a safe and supportive environment?
Like many people who answer yes to these questions, working with the wooden sticks help us forge deeper connections within ourselves, grounding, centering and nourishing.
You are very welcome to come and join this drop in class every Wednesday evening from 730-845pm.
Please wear comfy stretchy clothes. All equipment is provided in the studio.