Meditative Yoga Classes in Brighton
Classes which focus on the mind as much as the body; connecting the mindbody through movement.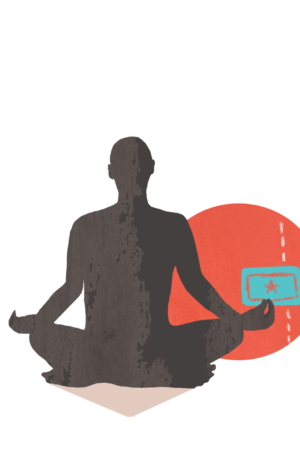 Lunchtime Beginners Yoga with Donna – Mondays 1.10pm-1.55pm
This class combines yoga philosophy and embodied practices such as meditation, mantra and pranayama.
Donna's aim is simply to share this practice as a means to realise the ultimate potential in all of us. To integrate mind, body and soul on and off the mat. To live fully, holistically and happily. Classes are crafted with a meditative feel, a deep dive into the movements of the body through āsana (poses) and the subsequent releasing of tension and stress through the breath. Instructions are guides towards an experience rather than a goal – authentic and heart centred. Weaving some anatomy and philosophy throughout – pointing towards the deeper aspects of our being. Leaving students feeling calmer, more connected and peaceful.
Her mantra and wish for all her students: Be yourself, realise your true essence, feel good.
Lunchtime Mindful Yoga – Wednesdays 1.10pm – 1.155pm
Classes will explore yoga postures (some restorative, some stronger), breathing techniques (pranayama) and meditation. Tammy's approach is friendly, playful and joyful, with an emphasis on kindly awareness of our bodies as they are in the moment. Tammy's intention is for students to leave the practice feeling lighter in body and mind, and for this to resonate throughout the rest of the day.
Suitable for everyone.
Teacher: Tammy Mccann
Community Meditation (Virtual Only) – Thursdays – 8.15am – 8.45am
Suitable for everyone. Tammy will lead this meditation with gentleness, clarity and accessible language. The practice will promote ease and acceptance of the body and mind, and guide you into the day with kindness towards yourself and others. Tammy draws on her deep experience of yoga, meditation and alternative practices to create a sense of sharing and community in the meditation, so that everyone feels held, connected and in touch with the present moment – the precious moment.
Teacher: Tammy Mccann
Vajrasati Yoga – Wednesdays 6.00pm – 7.15pm and Fridays 12.15 – 1.30pm
Vajrasati yoga combines the postures, breathing and meditation techniques of classical/modern postural yoga, along with innovative explorations outside 'traditional' postures from a conscious, subtle and energetic alignment perspective.
The classes are always suitable for all levels and won't fail to integrate the newest student whilst providing a fresh perspective for very experienced students. Accessibility for the newcomer with detailed clear instruction and depth for even the most experienced practitioners allows for an inclusive practice which is at the heart of Vajrasati yoga.
Vajrasati draws on traditional teachings of yoga philosophy and brings them to life through an embodied understanding to truly give the student the experience of yoga/union beyond just a physical exercise, but a whole-being experience.

Authentic Hatha Yoga – Saturdays 10.45am – 12.15pm
Authentic Hatha Yoga brings the best from the classical ancient yoga, focusing on physical health and mental well-being. Hatha Yoga uses bodily postures ( asanas), breathing techniques ( pranayama), meditation (dyana) and yogic philosophy.
This class is a combination of energetic flow, strong standing sequence and meditative longer holding postures to stretch and release the connective tissue. We use mindfulness of the body and breath, focusing on correct alignment, learning the healing benefits of each technique and feeling energy movement through chakras ( energetic centres in the body).
This class is suitable for beginners and experienced yogis alike.
Teacher: Jitka Andrlova
Yoga and Meditation – Sundays 6.00pm – 7.30pm
The class will include a mix of restortive and more dynamic postures, pranayama and meditation. Tammy's style is inclusive, relaxed and suitable for everybody. Come and enjoy!
Teacher: Tammy Mccann